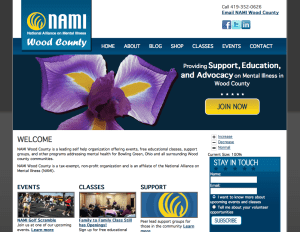 We worked with NAMI Wood County to create a site that accomplished a number of goals: enhanced their brand, reach out to more individuals, provide easy to find information for both the public and volunteers. But most importantly, provide accessible information for those with disabilities.
There are a lot of technology barriers for the disabled. Did you know that if you are a Federal agency you are by law required to have a Section 508 compliant site? Even with this 1998 amendment it has yet to become a truly enforced standard – leaving the disabled without fair access to information.
Private web sites not receiving federal funds do not need to comply to Section 508, however it is a good industry practice and a voluntary standard called W3C was created for the lack of enforcement.
NAMI Wood County's website is both Section 508 and W3C Compliant. Additional features include newsletter integration, blog, social networking, and shopping cart.