Stacey Weckstein, owner of Nutrition for Business Owners (view online) is getting published. Stacey has been a client of Winged Design now for a few years and is based out of Weston, Florida. She concentrates her business on busy professionals.
"So often nutrition is overlooked as a strategy to enhance performance in the workplace." Her chapter, "Fuel your Success," in the book titled, "The Next Big Thing" addresses this issue.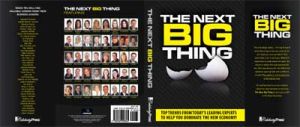 The book comes out early next year.
Congratulations Stacey! Follow her on Twitter.